Watch Video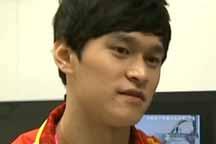 Play Video
While the USA dominated the pool, China's swimmers have certainly laid down a marker for the future with a series of amazing performances that left them 2nd in the swim medal table.
Sun Yang ended the meet with 2 gold, a silver, and a bronze, his last gold coming on Saturday evening when he smashed his own world record in the 1500 meters. Afterwards, he gave an exclusive interview to our Wang Dong, and told us that he's not sure whether he'll continue his Olympic journey in Rio in 2016.
Q1. As time goes by, your record is getting better and better, your record is improving, however you tend to be more emotional,
can you tell me why you tend to be more emotional?
Q2. How ready are you to be the leader of the Chinese national swimming team from now on?
Q3. Four years later in Rio Olympics, what are your anticipations ?
Related stories
Editor:Zhang Jingya |Source: CCTV.com