Watch Video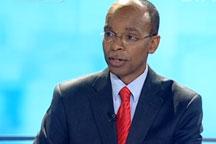 Play Video
The London Olympics has entered its 12th day. We've really seen many moments of glory and excitement.
Q1: Four years ago after an Achilles injury denied Liu the chance to defend his Olympic title in Beijing, tragedy struck again as the 2004 champion crashed into the first obstacle and fell to the track in his opening heat. How do you see his failure?
Liu limped determinedly down the track toward the finish line and kissed the last hurdle, earning a rousing ovation from the 80,000 crowd at the Olympic stadium. How moving, wasn't it?
Q2: Algerian Taoufik Makh-loufi, an Olympic distance runner, has also drawn much attention on the track. He won the Men's 15-hundred meter gold medal a day after dropping out of an 800m heat. How do you see his performance?
He was expelled from the games for not trying hard enough and was reinstated after officials determined he had a legitimate medical reason not to finish the race. Makhloufi had suffered a minor knee injury that forced him to quit. How do you see the judgement?
Q3: Now let's move on to China's gymnastics, which has concluded all its events.
China added two more gold medals as Deng Linlin and Sui Lu finished top two on the beam and Feng Zhe beat off his opponents on the parallel bars. How do you evaluate the Chinese Gymnastics team's performance last night?
China was so powerful four years ago snatching seven out of a total of eight events in the men's disciplines. Chinese women team dug deep to take China's first ever women's team victory. They also topped the uneven bars, accumulating nine golds out of all 14 on offer and 14 medals. In London, Chinese gymnasts were still considered the strongest, but not as strong. Four golds and 12 total medals is a result admirable for any other team, but less than half of the golds won in Beijing can be considered a big slide. What are the problems?
Epke Zonderland - high bar winner from the Netherlands, also drew a lot of attention as was dubbed the flying man in the sky. How do you see his performance?
To snatch a gold in the Gymastic competition, almost all the athletes have used their most difficult routine. And we know in the competition there are two parts for scoring, one is dificulty and the other is execution. Which one do you think will prevail in the future?
Related stories
Editor:Wang Xiaomei |Source: CCTV.com