Watch Video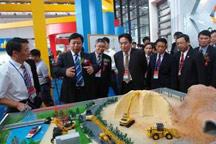 Play Video
China and the Association of Southeast Asian Nations are getting ready for their major economic and trade platform. The Expo will open on September 21st in South China's Guangxi Zhuang Autonomous Region.
Backed by eight years of solid success, the 9th Expo aims to continue bringing business and investmemt opportunities, and knitting closer economic ties.
China has been ASEAN's biggest trade partner for three years in a row, and bilateral trade has seen robust growth.
In the first half of 2012, it stood at 187 billion US dollars.
And now the two sides are gearing up for their 9th Expo, whose theme is "Science and Technology." It will be held in Nanning, capital of Southwest China's Guangxi Zhuang Autonomous Region.
And organizers are working on new business angles.
Lan Tianli, vice chairman of Guangxi Zhuang Autonomous Region, says, "This year the expo is having the first ASEAN coffee exhibition, and organizes ASEAN-market-oriented Chinese products for ASEAN buyers. At the same time, it's also the first time to set up an ASEAN industrial park promotion conference, to attract Chinese investment in ASEAN countries."
The expo reflects the economic momentum over the past decade.
Accumulated bilateral trade is 362 billion US dollars in 2011. That's nearly 6 time higher than in 2002.
Gao Hucheng, Chinese vice minister of commerce, says, "The economic cooperation between China and ASEAN has borne fruit. ASEAN has overtaken Japan as the China's third largest trading partner. Not just trade volume. In the first half of 2012, China's investment in the region increased by a third."
The past eight expos witnessed a trade volume around 12 billion US dollars. This year's expo will continue to focus on cooperation and provide opportunities for business communities in China, ASEAN and beyond.
Related stories
Editor:Zhang Jianfeng |Source: CCTV.com