Watch Video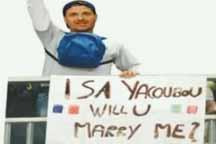 Play Video
The London Olympic Games is drawing to an end. In addition to the exciting performances by the athletes, there have been moments of true romance, and even some marriage proposals.
Apart from the excellent Olympic performances, we've been privy to some particularly engaging moments.
China's Liu Xiaobo won an Olympic bronze medal in the men's taekwondo heavyweight +80kg on Saturday. He said the medal was extremely important for him, AND, her.
Liu Xiaobo said, "I promise to be true to you in good times and in bad, in sickness and in health. I will love you and honour you all the days of my life. Will you marry me?"
Italian volleyball player Antonella Del Core claimed gold at the London Olympics - in the form of an engagement ring.
After a preliminary-round match, the 31-year-old wing spiker, who's also been a member of the national team for several years, went to the stands to hug her boyfriend, Francesco. And he surprised her by presenting her with a ring and asking her to marry him.
And she said yes.
Antonella's happiness was soon picked up by Team GB pole vaulter Holly Bleasdale. She lost the medal, but the day became the best ever after she accepted the marriage proposal, which came hours after the disappointment of her sixth place Olympic finish.
And Cupid's arrow also made an appearance for the French women's basketball centre Isabelle Yacoubou. Following her team's first gold medal game, her boyfriend held up a sign in the stands and popped the question.
Olympic is a sports event for the whole world, and some have made the moment unforgettable.
Related stories
Editor:Zhang Dan |Source: CCTV.com