Watch Video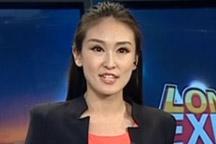 Play Video
The 2012 London Summer Olympic has just concluded, looking back, what are some of the most interesting facts and figures?
More than 10,000 athletes have competed in 26 different sports and 302 gold medal events at the London games, and now this is how the final medal table looks like. The biggest winner, the United states, stands at the top with 45 golds and 103 medals overall, and China, despite a strong start, now ends up at the 2nd place with 38 golds and 87 medals. The host nation Britain finds itself at the third spot at the end of the game, and Russia and South Korea round out the top 5.
As the world's best athletes come together for over two weeks of non-stop action, numerous world records have been broken at the London Games.
In the Women's 4 by 100-meter Relay, Team USA smashed the world record that had survived 27 years and grabbed the gold, finishing with 40.82 seconds. And Jamaica set a new world record in the Men's 4 by 100-meter Relay, and ended the United States's domination of this event, with a record of 36.84 seconds.
And in the Men's 1500 meter Freestyle Swimming, China's swimmer Sun Yang broke the world record in a spectacular fashion by winning over 8 seconds. He's also China's first male swimmer that has ever won an Olympic gold medal.
Then China's 16-year-old swimming phenomenon Ye Shiwen demolished the previous record in the Women's 400-meter Individual Medley, finishing with 4 minutes 28 seconds point 43. American swimmer Missy Franklin also broke the 200-meter backstroke world record and became the 2nd most decorated Olympian of the London game next to Michael Phelps.
And in weightlifting, North Korea's Kim Un Guk added the world record to his repertoire after setting the snatch Olympic record for his first lift. China's lifter Lv Xiaojun broke the world record in the men's 77-kilogram weight class. China's Zhou Lulu also set a new record in women's 75-plus kilogram weightlifting, lifting 333 kilos.
American swimmer Michael Phelps grabbed 4 golds and 2 silver medals at the game, he has not only become the biggest winner at the London game, but also the most decorated Olympian of all time, with 18 golds and 22 medals overall. American Missy Franklin, Alison Schmitt, and Jamaican sprinter Usain Bolt are also big winners of the game with multiple gold medals.
And China's swimmer Sun Yang and Gymnast Zou Kai are also included in the top 15 medal winner. China's most decorated Olympian in history however, is Zou Kai, who now has 5 gold medals from 3 Olympics. China's 7 other athletes are in the top 40 with 2 golds, including diver Chen Ruolin, and swimmer Ye Shiwen.
Editor:Wang Chuhan |Source: CCTV.com