Watch Video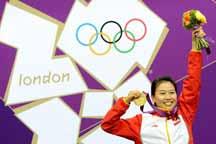 Play Video
The curtain has gone down on the 30th Olympic Games in London, and back home in Beijing, people are voicing different opinions on the performance of China's delegation.
28 years after pistol shooter Xu Haifeng won China's first Olympic gold medal in Los Angeles, the country's athletes continue to achieve new firsts. Like Yi Siling, the first to take a gold for China in women's 10 meter air rifle. For them, the competition brought feelings ranging from joy to excitement, and from frustration to disappointment. And the same was true for sports lovers back home.
Beijing resident said, "I think the Chinese athletes were performing well, but it's a shame that they only got few team gold medals.
Beijing resident said, "I am very proud of Lin Dan. The biggest disappointment was when Liu Xiang suffered a setback. But I think although we had good performance in the Olympics, the overall sports level back home needs to be enhanced."
As the curtain fell on the London Games, and the final tally was released,. the Chinese delegation achieved its best results outside of the Beijing Games. China had obvious advantages in weightlifting, gymnastics, diving and baseball and badminton. About 70 percent of the gold medals were won in those sports.
Dong Jun, Beijing 2008 Olympics commentator, said, "I think just as the delegation said in London the performance was very satisfactory. The public should be happy."
Dong Jun also said compared with before; the obsession by people back home with earning the gold has changed.
As more confidence and the actual sports level goes up, more Chinese people are holding a positive outlook towards the results of the Olympics. People are more relaxed when they look at the gold medal tally.
Dong Jun, Beijing 2008 Olympics commentator, said, "In the past, we were sort of obsessed. Now we cheer for our athletes, but if they don't perform well, that's fine. Actually, we are in a more rational healthy stage. If you ask people on the streets they are more relaxed"
The London 2012 Olympics motto was to inspire a generation. The 30th Olympic Games should inspire not only the dream of sports achievements and broken world records, but also of high-tech development, strong industrial manufacturing, and overall national development. Compared to the number of gold medals won, these aspects are equally important.
Editor:Zhang Dan |Source: CCTV.com