Watch Video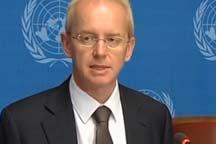 Play Video
The UN Refugee Agency says it's "scaling up its capacity" to deal with the increasing number of Syrian refugees fleeing to neighbouring countries to escape the violence in their country. A spokesman for the UN High Commissioner for Refugees says "hundreds" of Syrians are now fleeing on a daily basis and the agency will bolster its facilities.
Adrian Edwards, Spokesman of UNHCR, said, "Registration is important because without it, people may have difficulty in accessing basic health and services. In Tripoli, north Lebanon, on Monday, we opened a new registration facility. This will allow processing of up to 700 people a day. Northern Lebanon has around 20,000 registered refugees at this time, more people are awaiting registration even as others arrive."
Edwards also says there has been a "marked drop in the number of Syrians crossing into Jordan". But, the spokesman says the number of Syrians entering into Turkey has risen. According to the UNHCR, the number of refugees registered for help in Jordan, Lebanon, Iraq and Turkey is close to 160-thousand. But Edwards says the security situation in the area is "deteriorating". Meanwhile, the World Food Program plans to "distribute assistance to 850-thousand people by the end of August". The program says funding was still an obstacle to the aid group's work, as well as the ongoing violence in Syria.
Related stories
Editor:Zheng Limin |Source: CCTV.com