Watch Video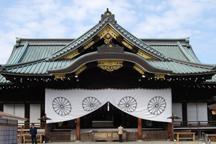 Play Video
Japanese Cabinet minister Jin Matsubara, in a provocative move, has visited the Yasukuni Shrine in Tokyo on the 67th anniversary of Japan's World War II surrender.
Matsubara, chairman of the National Public Safety Commission, visited the shrine despite calls from Prime Minister Yoshihiko Noda to refrain from official visits. The minister called it a private visit.
The shrine, which honors some 2.5 million Japanese war dead including 14 major war criminals, is seen as a symbol of Japan's past militarism against its Asian neighbours including China and South Korea. It is the first visit by a Japanese cabinet minister under a government led by the DPJ, since it came to power in 2009.
Related stories
Editor:Wang Shuo |Source: CCTV.com