Watch Video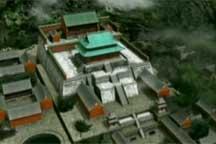 Play Video
Due to the construction of the South-to-North Water Diversion Project, Yuzhen Palace on Wudang Mountain has been in danger of being flooded. To protect this historical and cultural heritage, Yuzhen Palace will be raised by 15 meters. The east gate of the palace has so far been lifted 15 centimeters.
By the end of Wednesday, it is expected to be lifted by more than 50 centimeters. Once the dam and the water diversion project are completed, the water level in the reservoir will increase from 157 meters to 170 meters, 5 meters higher than the current location of the Yuzhen Palace.
The project to raise the gates started on August 1st, and will continue over the next 100 days. In order to raise the gate to the necessary altitude, hydraulic lifting jacks will be placed under key foundation points. All the equipment is monitored by a computer system. Once the lifting process has been activated, it will continue automatically until it reaches the target altitude.
Editor:Wang Shuo |Source: CCTV.com