Watch Video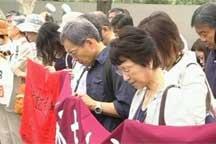 Play Video
August 15th marks the 67th anniversary of Japan's surrender in the Second World War. The day also marks the victory of the Chinese people in the War of Resistance against Japanese Aggression. Chinese people and foreigners gathered on Wednesday in Nanjing city to mourn the victims of the Nanjing Massacre, committed by invading Japanese soldiers 70 years ago.
Nanjing was in grief as people gathered in the eastern Chinese city to mourn the 300,000 lives taken by Japanese invaders. The mourners included Japanese people who said they felt sorry for the atrocities commited by war-time Japan. They added they would make great efforts to help more Japanese learn about the history and promote the friendly relationship between two countries.
Mourners from China and Japan declared that they would draw lessons from history and be opposed to war and violence. They urged joint efforts to develop friendship between China and Japan and enhance bilateral cooperation.
Editor:Wang Shuo |Source: CCTV.com