Watch Video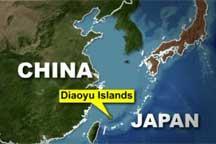 Play Video
A ship belonging to a Hong Kong activist group is inching towards the Diaoyu Islands.
According to Phoenix TV, the ship has arrived at waters 15 nautical miles from the islands, advanced 3 nautical miles compared to 1 hour ago. Eight Japanese warships are shooting water cannons at them. They also received warnings from Japanese ships. Several Japanese helicopters can be seen hovering on the air.
Crews are being asked to put on life vests and to prepare for their safety. The activist group's leader says the chance of reaching the islands is weak if attacked by the Japanese side. The goal of the trip is to assert China's sovereignty over the Diaoyu Islands.
Editor:Wang Shuo |Source: CCTV.com