Watch Video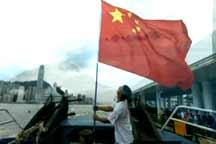 Play Video
The Chief Executive of Hong Kong, Leung Chun-ying, summoned the Japanese consul-general in Hong Kong on Wednesday night. Leung demanded the Japanese side not to endanger the detained Chinese citizens and free them as quickly as possible. Hong Kong Immigration Department officers have left for Tokyo to provide assistance. People across Hong Kong have demonstrated their anger for the arrest, and voiced support for the activists.
Lui Ding-Ming, Professor of HK Univ. of Science and Technology, said, "I am in favour of their act of claiming sovereignty of Diaoyu Islands. Since the 1970s, we have done thorough research on the history of Diaoyu Islands. And there is no doubt it is part of China . It is reasonable for us Chinese to claim sovereignty and we strongly oppose the act of the Japanese."
Chan Chi-Ho, Chairman of Hong Kong Youth Think-Tank, said, "I feel extremely thrilled, because there is no doubt that Diaoyu Islands belong to China. For a long time we have not stepped on the islands. The Hong Kong activists excite me, but I am quite concerned about their safety. After all, there are many Japanese on guard on the islands."
Chou Ho-Ding, Member of Hong Kong Legislative Council, said, "There's nothing wrong for activists from Hong Kong to claim sovereignty of Diaoyu Islands in this way. But Japan arresting them is very dangerous."
Cheong Kwok-Leung, Hong Kong Federation of Trade Unions, said, "Diaoyu Islands are ours and it is our right to go to the islands. I don't know why the Japanese side has to arrest our people. I feel excited that our people landed on the islands, but angry with Japan's act."
Editor:Zheng Limin |Source: CCTV.com