Watch Video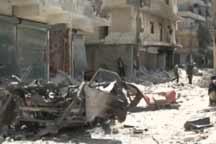 Play Video
The UN Human Rights Council says war crimes have been carried out by both opposition groups and government forces in Syria.
The report was issued as violence intensifies across the country. It alleges that the Syrian government has authorized murder, torture and sexual violence. In particular, government troops and pro-government militia are deemed to have carried out the Houla massacre, in which 108 people including 49 children died.
The investigation also found opposition forces guilty of war crimes, but not of "the same gravity, frequency or scale". It calls on the UN. Security Council to take "appropriate action" given the gravity of documented violations by all sides.
Related stories
Editor:Zheng Limin |Source: CCTV.com