Watch Video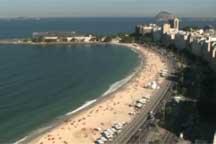 Play Video
Brazil's president Dilma Rousseff has announced a 65-billion-dollar plan to stimulate the economy, centered on infrastructure. The plan offers 14-thousand kilometers of roads and railways to the private sector. Karina Huber has more.
Brazil is gearing up for a massive influx of visitors. In 2016 it will host the Olympics - two years before that the Football World Cup. In February, it privatized three of its largest airports in a bid to improve its infrastructure ahead of the arrival of all those athletes and tourists.
Now President Rousseff has announced Brazil will be offering concessions to roads, railways, ports and maybe some other airports to the private sector.
Growth in Brazil is predicted to be under 2 percent this year - a big drop from its 7.5 percent rate in 2010. Part of its slowdown is due to slower global growth but also due to weak infrastructure.
International economists with a specialty in emerging markets like Joseph Foudy think 65 billion dollars is not enough to get Brazil's economy back on track but focusing on improving its infrastructure is a good first step.
Joseph Foudy, Associate Professor, NYU Stern School of Business said, "The number one challenge that Brazilian observers and international observers see is the quality of infrastructure. We really worry that this is a bottle-neck on GDP - that when the country is growing too fast inflation sets in earlier and faster than other countries. So anything they can do to really improve the quality of infrastructure is going to pay big dividends down the road."
Brazil is also preparing to get rid of some taxes industries have to pay for energy.
While there may be some concerns about that sparking inflation Foudy believes with a rate of under 2 percent growth short-term inflation isn't a threat and if Brazil tackles its infrastructure problems now there will be less inflation down the road as goods will be able to flow from region to region with greater ease and less cost.
Related stories
Editor:Wang Shuo |Source: CCTV.com