Watch Video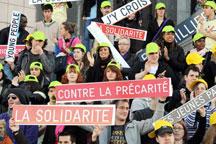 Play Video
The government of northern France's Somme province says order has been restored after the recent youth riots against police in the town of Amiens. But people are asking why the young people chose violence to express their concerns.
Le Courrie-Picard, a French reporter said, "The economy here is not very good. Residents here usually feel being forgotten by the government. They feel abandoned in the slum. Many of them do not have decent jobs. The unemployment rate here is more than 50 percent. So it's very often that young people clash with the local police."
Youth and police clashed on Sunday and Monday nights in the city of Amiens. Dozens of cars were torched and burning barricades of dustbins set up. A primary school was partially destroyed by fire, and a police station ransacked.
It's not the first time violence has erupted in Amiens. The industrial town was built in 1959. Most apartments are low-rent housing. Local residents have long complained that the government doesn't pay enough attention to the area.
Related stories
Editor:Wang Xiaomei |Source: CCTV.com