Watch Video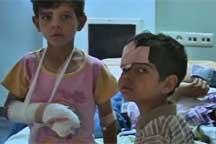 Play Video
An airstrike targeting the rebel-held town of Azaz in the north of Syria has killed at least 80 people and wounded 150 others. The lack of medical facilities has forced the wounded to be rushed across border to Turkey for treatment. Many of them are children, now left homeless by the conflict.
Traumatized and disoriented, these young patients are in great pain in this Turkish hospital.
The airstike on Wednesday destroyed everything they had in their hometown, leaving them overwhelmed.
Many of them seem too scared to recall what happened. Only the adults could recount the terror.
Wounded Syrian from Azaz said, "So many people are dead and there are too many wounded people. And many people remained trapped under debris. They couldn't be rescued yet."
Wounded Syrian from Azaz said, "They attacked us with a war plane. Maybe he thought he was fighting Israel but he is killing his people. Lots of people from Azaz died. 28 people from my family died."
Children are among the most vulnerable in the Syrian conflict.
A UN report issued in the middle of June says children are paying a horrendous price. The report accuses both the security forces and the rebels of the abuse, arbitrary detention and even killing of chidlren. The Human Rights Watch estimates that more than 1,100 children have been killed during the unrest. The humanitarian needs of Syrian children is becoming one of the most pressing issues for the international community.
Editor:Wang Shuo |Source: CCTV.com