Watch Video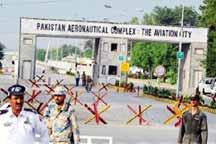 Play Video
At least half a dozen fighters armed with automatic weapons and rocket-propelled grenades attacked a major air force base in northern Pakistan on Thursday. The attack sparked a heavy battle that killed two security personnel and left parts of the base in flames.
The Base, Kamara, is located about 40 kilometers Northwest of Islamabad. It hosts a variety of fighter jets, including F-16s, and a large factory that makes aircraft and other weapons systems. Locals say militants infiltrated the base under the cover of darkness and began battling security forces at around two a.m. Others fired rocket-propelled grenades at the base from outside, damaging one aircraft.
Zeeshan Afzal, local resident, said, "We thought some kind of normal activity was going on inside the base. But at around 3.30 a.m., when we got here, we saw a number of police vehicles were parked and we were told that terrorists had attacked."
Following Thursday morning's 2-hour-long attack, the Pakistani air force was able to retake the base. Six militants wearing explosives and two security personnel were killed in the fighting. Security officials have been checking all vehicles entering the complex, and searching the area for any militants who may have escaped. So far, no group has claimed responsibility for the attack, but suspicion will likely fall on the Pakistani Taliban.
Editor:Zhang Dan |Source: CCTV.com