Watch Video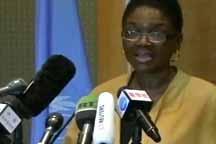 Play Video
The United Nations' humanitarian Chief, Valerie Amos, has said that she hopes the Syrian government will allow more international aid groups to operate in the country, to help alleviate the deteriorating humanitarian situation.
The humanitarian plight in Syria has worsened over the past month. Fighting has intensified in the capital, Damascus, and the biggest city, Aleppo.
UN humanitarian relief coordinator, Valerie Amos, is visiting Syria to press for better access for aid work.
Valerie Amos said, "I continue to lobby the government to be more flexible in its approach to humanitarian operations. There is no reason why ordinary Syrians, men, women and children, should not receive as much help as practically possible."
She was speaking after she met senior Syrian officials, including Prime Minister Wael al-Halki. Amos said the number of Syrians in need of help had more than doubled in the past five months.
Valerie Amos said, "Back in March we have estimated that a million people were in need for help; now as many as 2.5 million are in need for assistance and we are working to update our plans and out funding requirements."
The UN official urged all parties in the conflict to do more to protect civilians.
Meanwhile, UN human rights investigators said in a report that they have found Syrian government forces, pro-government Shabbiha militia and rebels have committed war crimes and crimes against humanity, including murder and torture.
Related stories
Editor:Zhang Dan |Source: CCTV.com