Watch Video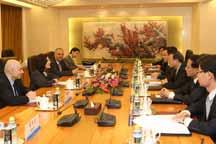 Play Video
Chinese Foreign Minister Yan Jiechi has met visiting Syrian Presidential Envoy, Bouthaina Shaaban, in Beijing. The Foreign Ministry says the Syrian envoy's visit to Beijing is part of the Chinese government's efforts to mediate the prolonged conflicts in Syria.
The Ministry said China is also considering inviting members of the Syrian opposition groups to visit. It stresses that China has been urging the two sides to implement Kofi Annan's six-point peace plan, the UN Security Council resolutions, and the Geneva communique agreed by the Action Group meeting of major world powers on June 30th.
The Syrian envoy has praised China and Russia on their stance towards the crisis in her country. She also dismissed comments by former Syrian Prime Minister Riyad Hijab that Assad only controls 30 percent of the country and his power is crumbling. The former Prime Minister has already fled to Jordan.
Editor:Zhang Dan |Source: CCTV.com