Watch Video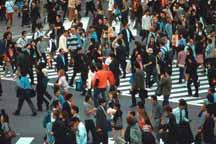 Play Video
The Chinese Academy of Social Sciences has just published the Urban Blue Book. It notes that the urban population has now surpassed the number of rural residents in China, with the urbanization rate reaching around 51.3 percent. It's estimated that nearly 500 million farmers will move to China's cities over the next 20 years.
A turning point for the traditionally agricultural based country. The number of people living in urban areas has now surpassed the numbers living in the countryside for the first time. And the new wave of people is boosting the economy.
Liu Zhiyan, Chinese Academy of Social Sciences, said, "The growing urban population is driving domestic consumption and generating more investment opportunities. It's helping to boost the economy at home, and will have a positive impact on the wider global economy."
However, urbanization has its price. In the next 20 years, nearly 500 million farmers will move to cities. At least 40 thousand billion yuan will be needed to cover the cost of social welfare and public infrastructure development.
Liu Zhiyan said, "The government should provide migrant workers with equal opportunities in terms of jobs, social welfare, and children's education. The urban infrastructure will also have to be improved to accommodate the fast growing population."
But there's still a big difference between the welfare rights and benefits of migrant workers and those of urban residents under current policies. And this is a factor which prevents migrant workers from feeling fully integrated.
Editor:Zhang Dan |Source: CCTV.com