Watch Video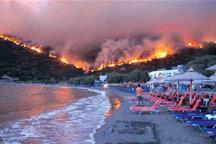 Play Video
On the Greek island of Chios, more than 16,000 acres of pristine forest and farmland, including rare mastic trees, have been destroyed by a fire that is still raging.
The fire started in the early hours of Saturday morning, with gale force winds pushing it southward on a fiery 25-kilometer path. Billowing brown smoke choked the island, which lies northeast of Athens off the coast of Turkey, as 21 fire trucks and dozens of volunteers battled the flames to prevent them from reaching the cluster of villages that traditionally produce the rare mastic tree resin.
Scores of mastic orchards were destroyed, their melted resin forming white circles around the burned trees and putting at risk many islanders' livelihood. More firemen and trucks arrived from all over the country on Sunday to help fight the flames, but the gale force winds made containing the fires difficult.
Editor:Zhang Jianfeng |Source: CCTV.com