Watch Video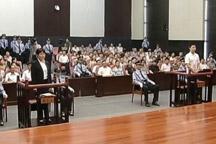 Play Video
The Intermediate People's Court of Hefei City in east China's Anhui Province has handed down its verdict in the intentional murder case of Bo-Gu Kailai and her accomplice Zhang Xiaojun.
Bo-Gu Kailai has been given a death sentence with a two-year reprieve. The other defendant in the case, Zhang Xiaojun, has been sentenced to 9 years in prison. They were tried on August 9th. The prosecuting body says the facts in the two defendants poisoning of victim Neil Heywood to death are clear and the evidence substantial. Their behavior violated Article 232 of the Criminal Law of the People's Republic of China.
More than 100 people, including the defendants' families, officials from the British Embassy in China, media, NPC deputies, CPPCC members as well as public representatives were on hand to hear the verdict.
The court says Bo-Gu Kailai was the mastermind of the murder and deserved a death sentence. The court also noted that Neil Heywood had threatened to harm Bo-Gu Kailai's son, escalating the conflict between them. Legal appraisals indicated that, although Bo-Gu Kailai had suffered from mental disorder, she was fully aware of the nature of her criminal behavior and its grave consequence. She was found to have had very week control of her action, though.
The court also took into account that Bo-Gu Kailai assisted the investigation of the case, admitted guilt and expressed regret for her crime. This explains her two-year reprieve. The two defendants said that they would not lodge an appeal.
Related stories
Editor:Wang Chuhan |Source: CCTV.com