Watch Video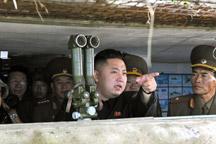 Play Video
The Democratic People's Republic of Korea has condemned the South Korea-U.S. annual joint exercises. Pyongyang says they are pushing the Korean Peninsula into a "touch-and-go" situation. It warns the joint training could lead to what it called a "sacred war".
The joint military drills have sparkled strong objection in DPRK. The official news agency KCNA quoted a joint statement issued by relevant DPRK departments saying the drills are an unpardonable military provocation and a declaration of an all-out war against the DPRK.
The DPRK statement also says the prevailing situation clearly shows who is the root of disturbing the peace and security in the peninsula and who is the source and provocateur of a war.
DPRK top leader, Kim Jong Un, slammed the United States and South Korea for "threatening peace and stability of not only the DPRK but of the region and the rest of the world".
He was quoted by the KCNA as saying: "If the enemy dares to recklessly preempt firing and even a single shell drops on the territory of the DPRK, the Korean People's Army should lead the battle to a sacred war for national reunification, not confining it to a local war on the southwest region."
He also threatened to turn the West Sea into a graveyard of the invaders. Kim Jong Un, also Supreme Commander of the KPA, carefully watched Yonphyong Island from the post and expressed satisfaction over the combat posture of the detachment.
The DPRK and South Korea exchanged in fierce artillery fire near Yonphyong Island in November 2010, killing four South Koreans. Both sides accused the other of firing the first shot.
Kim Jong Un (C), top leader of the Democratic People's Republic of Korea (DPRK), inspects
the unit of the Korean People's Army (KPA) on the DRPK's border Mu Islet on the southwest
front in this photo released by DPRK's official news agency KCNA on Aug. 19, 2012. Kim
Jong Un inspected a front-line artillery unit days before Seoul and Washington are to
launch their annual joint exercises, state media reported on Saturday. (Xinhua/KCNA)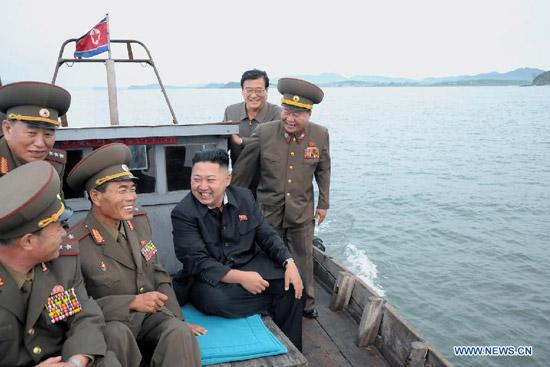 Kim Jong Un (C), top leader of the Democratic People's Republic of Korea (DPRK), inspects
the unit of the Korean People's Army (KPA) on the DRPK's border Mu Islet on the southwest
front in this photo released by DPRK's official news agency KCNA on Aug. 19, 2012. Kim
Jong Un inspected a front-line artillery unit days before Seoul and Washington are to
launch their annual joint exercises, state media reported on Saturday. (Xinhua/KCNA)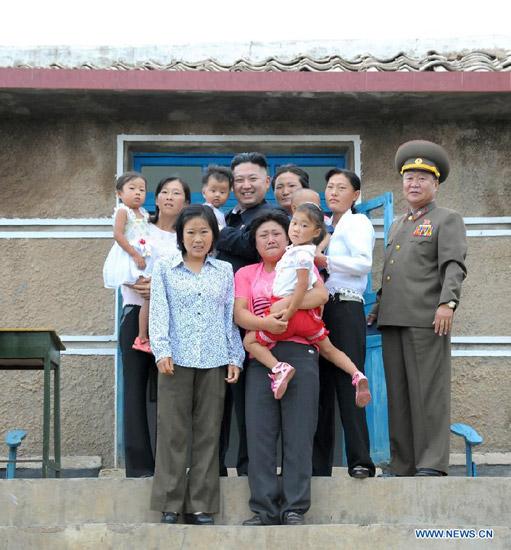 Kim Jong Un (C, back), top leader of the Democratic People's Republic of Korea
(DPRK), inspects the unit of the Korean People's Army (KPA) on the DRPK's border
Mu Islet on the southwest front in this photo released by DPRK's official news
agency KCNA on Aug. 19, 2012. Kim Jong Un inspected a front-line artillery unit
days before Seoul and Washington are to launch their annual joint exercises,
state media reported on Saturday. (Xinhua/KCNA)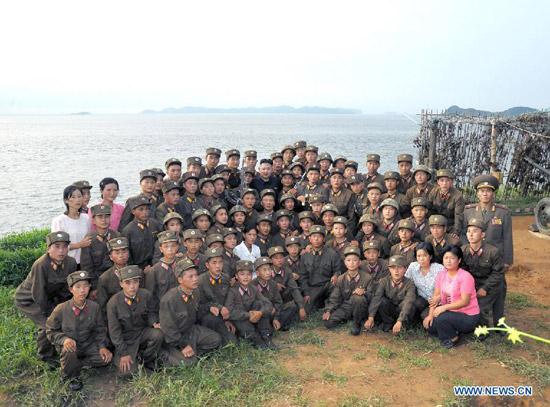 Kim Jong Un, top leader of the Democratic People's Republic of Korea (DPRK), inspects
the unit of the Korean People's Army (KPA) on the DRPK's border Mu Islet on the
southwest front in this photo released by DPRK's official news agency KCNA on Aug. 19,
2012. Kim Jong Un inspected a front-line artillery unit days before Seoul and
Washington are to launch their annual joint exercises, state media reported on Saturday.
(Xinhua/KCNA)
Editor:Wang Chuhan |Source: CCTV.com