Watch Video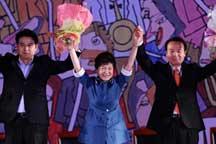 Play Video
South Korea's ruling Saenuri Party has voted for Park Geun-hye to stand in the country's presidential race, becoming the first woman to be nominated by a major party to run for the office.
The daughter of late military strongman, Park Chung-hee, clinched a landslide victory with 86.3 percent of the votes cast by some 82, 000 party members and 6,000 people. The win comes as no surprise, as the 60-year-old's complete dominance in pre-election polls had long overshadowed her rivals, including Gyeonggi Governor Kim Moon-soo, former Incheon mayor Ahn Sang-soo and former presidential chief of staff Yim Tae-hee.
Park, whose previous presidential bid was thwarted in 2007 by incumbent President Lee Myung-bak, has pledged to expand welfare programs, create jobs and improve strained ties with the DPRK. She enjoys unrivalled popularity among conservative voters and old-timers, which helped the scandal-ridden Saenuri Party, win a surprise victory in tightly contested parliamentary elections in April.
Related stories
Editor:Bai Yang |Source: CCTV.com