Watch Video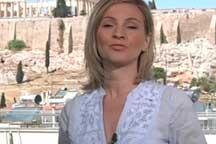 Play Video
The Greek government auctioned 3.1 billion euro short-term bonds last Tuesday to avoid defaulting on its debts which are due Monday. The sale aims to help Greece avoid having to seek emergency funding on top of the bailout loans it receives from Europe and the International Monetary Fund.
For more on this, we're joined by our correspondent Eirini Zarkadoula, in Athens.
Q1: Do you think Greece can repay its loans on time? If not, what will happen?
Q2: What is the chance of Greece going bankrupt now?
Editor:Bai Yang |Source: CCTV.com