Watch Video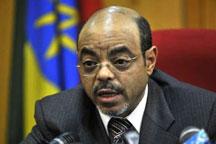 Play Video
Ethiopian state television has announced that Prime Minister Meles Zenawi has died.
The 57-year-old Ethiopian leader, who has been prime minister since 1995, has not appeared in public in the last two months because of an unspecified illness.
He reportedly died abroad due to a sudden infection, while he was recovering in hospital. Previous reports said he was receiving treatment in the Belgian capital Brussels. Meanwhile Ethiopian state TV said Deputy Prime Minister Hailemariam Desalegn will be in place as acting prime minister.
Meles has been in power since ousting Mengistu Haile Mariam's military junta in 1991. He served as president from 1991 to 1995, when he became prime minister. He won praise in the West for helping spur economic growth and for his army's support against al Qaeda-linked militants in neighboring Somalia.
But he also has been accused of crushing dissent, using national security concerns as an excuse to silence opposition figures and journalists. The government has dismissed those accusations.
Editor:Wang Xiaomei |Source: CCTV.com