Watch Video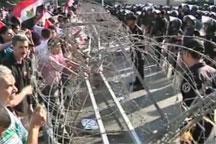 Play Video
Thousands of Egyptians have demonstrated against the Muslim Brotherhood. Friday's demonstration accused the country's Islamist President Mohammed Morsi and his Muslim Brotherhood group of trying to monopolise power.
The protest began in Cairo's Tahrir Square and marched to the presidential palace from several locations. Protesters say that Morsi exceeded his authority when he assumed legislative powers after forcing senior generals into retirement after a deadly attack in the Sinai Peninsula on earlier this month.
According to a local newspaper's website, seven people were injured in clashes between government supporters and opponents while some of the protesters in Manassa square in Nasr city were marching to Tahrir Square. The Muslim Brotherhood has responded with a statement affirming its respect for freedom of opinion.
Related stories
Editor:Wang Shuo |Source: CCTV.com