Watch Video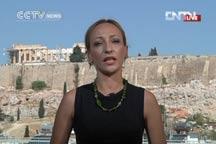 Play Video
Greek Prime Minister Antonis Samaras has arrived in Paris and has met with French President Francois Hollande. The Greek Prime Minister is expected to repeat his plea for more time to implement reforms. Full Story >>
For more, let's speak to our correspondent Filio Kontrafouri in Athens...
Q1, Greek Prime Minister Antonis Samaras has just arrived in Paris after meeting with Germany's Chancellor Angela Merkel on Friday. What expectations do Greeks have for Samaras's European tour?
Q2, Reports are saying that without adequate bailout funds, Greece could be forced out of the eurozone. What's the likelihood of this? And what IS the country's economic future?
Editor:Zheng Limin |Source: CCTV.com