Watch Video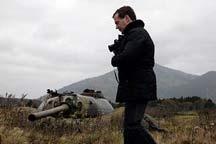 Play Video
Russian Prime Minister Dmitry Medvedev has visited the disputed islands twice in past three years, further fuelling the territorial conflicts between Russia and Japan.
Medvedev visited Kunashiri Island, one of the disputed islands, in November 2010 when he was Russian president. He is the first Russian leader to set foot on the island. He toured geothermal electric power generators on the island, and held meetings with local residents. The move provoked an angry reaction from Tokyo. In response, Japan's then foreign minister Seiji Maehara inspected the islands by a Japanese Coast Guard plane about one month later.
In July 2012, Medvedev visited Kunashiri Island again and this time as Russia's prime minister. He toured some industrial projects and infrastructure sites on the island, and met local residents as well.
Medvedev said the Southern Kuril Islands, called Northern Territories in Japan, is an integral part of Russia's territory. He also said Russia would schedule senior officials to pay regular visits to the islands.
Related stories
Editor:Zheng Limin |Source: CCTV.com