Watch Video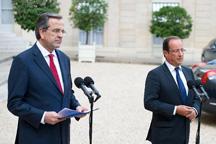 Play Video
After talks on the Greek bailout, both French President Francois Hollande and Greek Prime Minister Antonis Samaras said that Greece must stay in the eurozone.
Just one day after holding talks with Germany's Chancellor Angela Merkel, Samaras came to Paris asking for more "time to breathe" and not more cash to allow Athens to spread out painful economic reforms over four years instead of two.
Hollande urged Greece to "demonstrate the credibility of its commitments and the leaders' willingness to go through with them." He also said Europe must make a decision quickly about Greece's future once a key report is released next month by the troika of the European Commission, European Central Bank and International Monetary Fund.
Related stories
Editor:Zhang Dan |Source: CCTV.com