Watch Video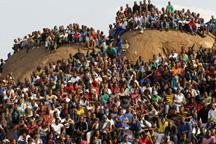 Play Video
There has been widespread acceptance of and support for South African President Jacob Zuma's announcement that the Judicial Commission of Inquiry into the Lonmin Mineworkers' Tragedy be headed by a retired judge and two senior advocates.
President Zuma made the announcement in the nation's capital, Tshwane, in Gauteng Province. His announcement came as thousands of mourners flocked to the town of Marikana, in the country's North-West Province to attend the official memorial service of the 44 people killed in violent clashes between police and striking-mineworkers.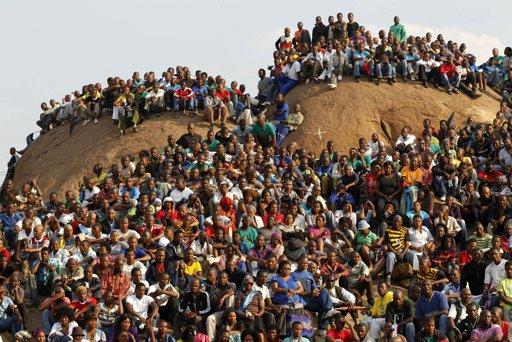 Mining community gathers at a hill dubbed the "Hill of Horror" during a memorial
service for miners killed during clashes at Lonmin's Marikana platinum mine in
Rustenburg, 100 km (62 miles) northwest of Johannesburg, August 23, 2012.
"Thirty-four workers killed within three minutes is a colossal disaster," says the Congress of South African Trade Unions.
It's a scene we must never again see on our TV screens in a democratic South Africa.
These sentiments were echoed by speakers at the official memorial service, at Marikana.
Thousands of mourners packed a tent near the killing fields, to pay their respects to the dead. The service was expected to be held here, at the site where 34 of these protesting workers were gunned down by police on Thursday the 16th of August.
But traditional leaders felt it would be inappropriate to gather for a memorial service on the ground which was soaked in the blood of their brothers.
After the service, thousands of mourners made their way to this hill - which the community refers to as "The Mountain".
The scene of a tense standoff between protesters and the police - which culminated in the now infamous shootout.
Political and religious leaders gathered here at this site - which has now become a place of memory and pilgrimage in honour of the Marikana Massacre Victims.
Religious leaders said they were stunned by the pain and suffering experienced here and called for principled, ethical leadership - from all stakeholders - in this bloody wage dispute. The urged them to address the heart and soul issues of the people.
Related stories
Editor:Zhang Dan |Source: CCTV.com