Watch Video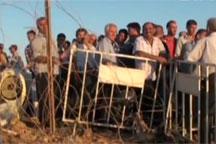 Play Video
As the UN security council debates the possibility of setting up a refugee "safe zone" to alleviate the pressure on neighbouring countries, at least 10,000 Syrians sit on Turkey's doorstep waiting for the completion of two more camps to house them. Yet many residents in these areas are not happy with the minimal security they feel these camps have and are lashing out at the Turkish government.
CCTV correspondent Natalie Carney takes a look at the security concerns many in the southern provinces of Turkey have as those refugee numbers increase.
Hundreds gathered in Hatay, also known as Antakya, to voice their concerns to local council members. While they have no problem with genuine refugees seeking safety in their province, they believe the government is turning a blind eye to foreign fighters heading to Syria through Turkey.
Hatay has been home to a number of new residences recently, which is disturbing the local population.
Mehmet Ang, Hatay Resident said, "I believe they are using these refugee camps to base hired soldier from Libya, Somalia, Yemen, Chechnya. I've seen them with my own eyes. Antakya is full of these people. And we are scared of them. No one stops them, no one controls them."
Residents here feel their streets are no longer safe.
While foreign fighters have been discovered in and amongst opposition forces fighting in Syria, how they got there cannot be proven.
Oktay Demirkan, Hatay Resident said, "We believe hired solders are brought here from Libya and are from Al Qaida and that makes us very uncomfortable." "There are untold stories behind these hills."
Well into the night the local population discussed their growing security concerns as the war in Syria rages on only a few miles away.
Hasan Akg, CHP Deputy for Hatay Province said, "Rebels are being trained in the camps and supported in every way by Turkish soldiers to go back to Syria and finish off the region."
The government sharply denies the allegations they are harbouring, let alone training, foreign fighters from terrorist organizations like Al Qaida. Yet this does not comfort the residents along the Turkey/Syria border.
Natalie Carney, Kilis, Turkey said, "Here is the city of Kilis where one of the countries largest refugee camps can be found, people also have security concerns."
Refugees are free to come and go as they please from the camp, located about 5klm from the city centre. This makes many shop owners very nervous.
Mehmet Akbal, Jewelry Shop Employee said, "They shouldn't let them come to the city and hang out. It should be limited. They should be observed. We didn't have any problems before, however after Syrians started coming here we had that terrorist attack in Gazainatep. We do not know who is Arab and who is Turkish."
Last week's bomb blast just north of Kilis has only further heightened insecurity in the area. The attack killed 9 people and was liked to a terrorist group with possible connections to Syria.
As Turkey pushes the international community for more help on the humanitarian front, residents will continue to worry if this is inevitably pushing Turkey closer to the Front line!
Natalie Carney in the southern Turkish city of Kilis.
Related stories
Editor:Wang Shuo |Source: CCTV.com