Watch Video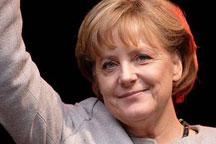 Play Video
Today marks day-2 of German Chancellor Angela Merkel's visit to China. Analysts say her visit lays a solid foundation for the future cooperation between China and Germany.
During Angela Merkel's visit, China and Germany have signed a slew of lucrative cooperation deals, including a contract for 50 Airbus A320 worth up to 4 billion US dollars between China's ICBC Leasing and Airbus. Other cooperation deals cover areas such as aviation, autos, communications, energy, and the environment.
Cui Hongjian, director EU research department, says, "The cooperation between China and Germany is of significant importance for the China EU relationship. That's because the trade relations between China and Germany play a very important role in the China-Europe economic ties, and the connection between China and Germany could impact and lead the cooperation between China and the EU."
Besides enhancing economic ties, another important issue of Merkel's visit is the eurozone debt crisis and Europe's solution to it. Chinese Premier Wen Jiabao says China is willing to continue invest in EU countries sovereign bonds, on the condition of fully evaluating the risks.
Cui also says, "From a certain point of view, Merkel can be viewed as a representative for Europe. I think the talks between China and Germany will have great influence over the 15th EU-China Summit to be held in September. "
Analysts point out that Merkel's visit also eases tensions in the aviation sector which were caused by the EU's carbon emission tax, as well as trade conflicts in the photovoltaic industry over the imposition of tariffs. Both sides however underline that China and Europe should try to resolve their current stand-off over solar panel imports through consultations, rather than taking it to court.
Related stories
Editor:Zhang Jianfeng |Source: CCTV.com