Watch Video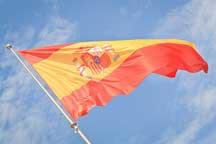 Play Video
Spanish Prime Minister Mariano Rajoy, says the country's new wave of austerity measures are necessary to maintain the state welfare system. Rajoy made the remarks to an audience gathered for a party speech in the north-west autonomous community of Galicia. He said the government's value-added tax hike was a painful but necessary measure.
Mariano Rajoy, Spanish Prime Minister, said, "Today a painful measure was enforced: The VAT hike. I am aware this is a sacrifice that arrives at a very difficult moment for many Spaniards. But I will tell you one thing: We adopted this measure because it was essential. It was the only one we could take to maintain public services whilst state revenues fall."
The decision to increase the country's VAT rate is part of a raft of austerity measures designed to remove 65 billion Euros from the public deficit by 2014. The hike leaves small businesses worrying about their future and cash-strapped consumers counting their pennies. Everyday living costs, like heating, phone bills and clothes are all made more expensive. Some larger companies say they will not pass the higher cost on to their customers. That has smaller businesses concerned that they will not be able to compete, as they are unable to squeeze margins in the same way as the big firms.
Editor:Bai Yang |Source: CCTV.com