Watch Video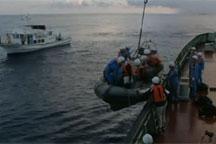 Play Video
A survey team from the Tokyo metropolitan government has completed an illegal survey around the Diaoyu Islands. They're expected to arrive back at Ishigaki Port in Okinawa on Sunday.
The 25-member team made up of officials fromTokyo city, a real estate surveyor and marine policy researchers, circled the islands in the East China Sea on Sunday. During the survey, the crew have reported the discovery of a 70-meter deep cave.
The team has also confirmed the existence of various types of wild birds. They also surveyed Bei Xiaodao and Nan Xiaodao, two islets near the Diaoyu Islands. The team has not carried out an on-land survey of the the islands because Japan's central government has not granted permission for the group to land on the islands.
Editor:Wang Shuo |Source: CCTV.com