Watch Video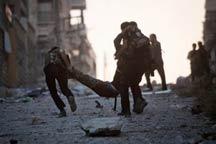 Play Video
According to Syria's state-run news agency SANA, a car bomb has killed 27 people and wounded more than 60 in the northern city of Aleppo.
Fire trucks tried to extinguish the blaze as rescue workers dug through mounds of rubble. No group has claimed to have carried out the attack. SANA blames terrorists, the term the government uses for rebels. Opposition activists are yet to comment.
The fight for Aleppo is critical for both the government and the opposition. Its fall would give the opposition a major strategic victory with a stronghold in the north near the Turkish border. A rebel defeat, at the very least, would buy Assad more time.
Editor:Zheng Limin |Source: CCTV.com