Watch Video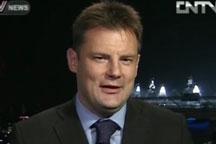 Play Video
British act Coldplay played through the majority of the event, joined by American rapper Jay-Z and Barbadian singer Rihanna, alongside a visual performance called the ´Festival of the Flame´ comprised of 17 dancers with disabilities. Closing ceremony>>
London's 2012 Paralympics has ended with a fiery finale and official handover to 2016 host, Rio de Janeiro. For more on the paralympics, we are now joined by CCTV correspondent Daniel Williams in London.
Q1: Hello, Daniel, the Closing ceremony has just ended... What did you make of that?
Q2: China has enjoyed incredible success, what's the word on the London streets on that?
Q3: What have been the highlights of the Paralympics this year?
Editor:Zhang Jingya |Source: CCTV.com