Watch Video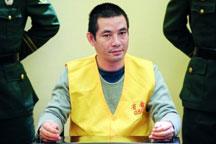 Play Video
Naw Kham was the leader of a large-scale armed drug trafficking group. Naw Kham was born on November 8, 1969. The ethnic Shan is originally from Lashio in Myanmar. He speaks the Myanmar and Thai languages. He is called a godfather.
Xian Yanming, VP of Yunnan PSD, Vice Director of Special Working Group, said, "Naw Kham used to be a subordinate of the Khun Sa armed force, a local ethnic armed force in Myanmar. In 1996 when the Khun Sa force surrendered to the Myanmar government, Naw Kham gradually took over the remaining forces, and stationed in the Mekong River Delta area. There, he commited crimes including kidnapping, killing, robbery, drug producing, and racketeerring."
After Naw Kham took over the remaining Khun Sa forces, he also connected himself with local ethnic armed forces. There were more than 100 members in his group, divided into many small armed groups, each of 15 to 30 members. They were equiped with weapons, such as AK submachine guns, pistols, machine guns, and grenades. His force stationed on the banks of the gold triangle area. There were many attempts to bring him down.
Hu Zujun, Narcotics Control Bureau, Yunnan Provincial Public Security Department, said, "The guy was equiped with very modern weapons, exceeding what we had expected. Over the years, Myanmar, Laos, and Thailand have carried out crackdowns on him, but all failed, and he was not even hurt a little bit. He has his ways. As we know, he is cunning."
Through coercion and bribery to local police, he gradually expanded his forces and scope of activities, mainly on the banks of the Mekong River near Mengxi Island. Chinese boats were often the targets.
Xian Yanming said, "Evidence shows that since 2008, 28 crimes were commited by his group against Chinese vessels and staff. 16 people were killed and 3 injured. Besides the killings last October, in 2008, the group intercepted and shot a motor boat from a public security bureau in Yunnan Province, that was carrying out a mission of international cooperation. In that case, 3 policemen were killed and one staff injured."
The Yunnan Provincial Public Security Department immediately began an investigation. It traced back the route of the vessel that was attacked, coming to the conclusion that it was carried out by the Naw Kham group with some lawless Thai policemen. The Naw Kham group posed great hazards to the security along the Mekong River.
Editor:Wang Xiaomei |Source: CCTV.com