Watch Video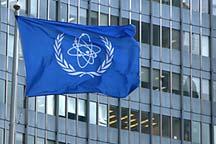 Play Video
AFP reports that Iran and the UN nuclear agency are planning to hold further discussions in mid October at the annual meeting of the UN atomic agency in Vienna.
Four envoys say that plans have been made for the meeting, following a meeting between Iran's nuclear agency chief, Fereydoon Abbasi Davani, and Yukiya Amano, director general of the International Atomic Agency.
The IAEA has made no mention of dates for more talks, but Amano says that the agency is committed to continued dialogue and ready to meet "in the near future". He stressed that a structured approach to clarify all issues related to Iran's nuclear program needs to be agreed and implemented as soon as possible.
In a debate at the gathering on Thursday, Iran said that Israel should accede to the Nuclear Non-Proliferation Treaty. Israel's envoy Ehud Azoulay in turn pointed the finger at Iran and Syria, saying "the most significant threats to the non-proliferation regime are those... that pursue weapons under the guise of their NPT membership."
Related stories
Editor:Zhang Dan |Source: CCTV.com