Watch Video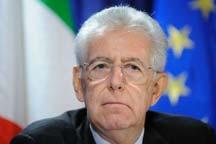 Play Video
Italian Prime Minister Mario Monti has held meetings with the leaders of Spain, Greece and Ireland to discuss the eurozone crisis.
Prime Minister of Spain Mariano Rajoy, Greek Prime Minister Antonis Samaras and Ireland's Enda Kenny are ALL in Rome to attend a meeting of international Christian Democrats. Monti, has talked alot about growth, but so far the reforms he has passed are considered far more timid than his austerity drive. He has unveiled two labour reform packages.
One, dubbed "Grow Italy" aims to deregulate service industries while the other, known as "Simplify Italy" has set a number of measures to cut red tape. The reforms are often hailed by European leaders concerned with the survival of the euro, but economists and business leaders have been less than impressed.
Related stories
Editor:Zhang Dan |Source: CCTV.com