Watch Video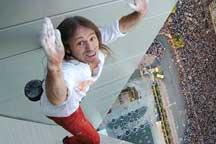 Play Video
Robert was born September 7 1962 in the town of Walesa in south France. From his early years, he dreamed of becoming a climber. But parents do not approve of his dangerous hobbies.
Secretly, he began to study framework and work with climbing ropes. He trained at cliffs and rocks near his home. Over time, Robert was the best climber in the city, and his parents came to terms with his passion.
In search of new skyscrapers, Robert has visited many countries. He's conquered many of the most famous buildings and historical monuments.
In total, Robert's climbed more than 70 skyscrapers. In 2004, French climber set a record - he climbed the Taiwanese skyscraper Taipei, which is 508 meters high. In order to get to the roof, Robert took about four hours.
The last of them was a Chinese skyscraper Tszinmao 420 meters high, he climbed in over half an hour.
The most well-known achievements climber - the famous Eiffel Tower in Paris, Golden Gate Bridge in San Francisco and high-rise buildings in Hong Kong, Mexico City, Shanghai, Abu Dhabi, Kiev and London.
Editor:Zhang Pengfei |Source: CCTV.com