Watch Video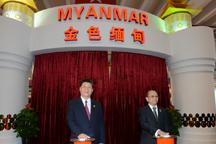 Play Video
By CCTV reporter Yang Yan
Chinese Vice President Xi Jinping has met with the leaders of ASEAN countries on the sidelines of the ninth China-ASEAN Expo in Nanning, in south China's Guangxi Zhuang Autonomous Region. Yang Yan tells us more.
In his meeting with the President of Myanmar, Vice President Xi Jinping said their two countries should ensure the smooth implementation of major bilateral cooperation projects.
He said both sides should continue to strengthen communication and coordination to accelerate the formulation of mid-term and long-term goals of bilateral exchanges in politics, economy, trade, culture, security and other areas.
Vice president Xi also said that China will continue to encourage its companies to invest in Myanmar.
Later during his talks with Malaysia's Deputy Prime Minister, Xi Jinping said China is willing to work with Malaysia and other ASEAN countries to push forward the China-ASEAN strategic partnership. He called the relationship between China and ASEAN the cornerstone for Asia's stability and engine for the continent's development.
Vice President Xi added that China-Malaysia relations are strong, noting that Malaysia was the first ASEAN country to establish diplomatic ties with China, and to have invited China to conduct dialogue with the ASEAN.
Xi Jinping also called on China and Malaysia to enhance bilateral cooperation in various fields, noting that Malaysia has become China's largest trading partner in the ASEAN.
China's Vice President also met with the Philippine Interior and Local Government Secretary, a special envoy of the Philippine President.
Xi Jinping said he hopes bilateral relations between China and the Philippines can return to the right track through effective communication to handle the issues concerning the South China Sea.
He called on the two nations to honestly implement the consensus reached by the two presidents to promote the healthy and stable development of bilateral relations.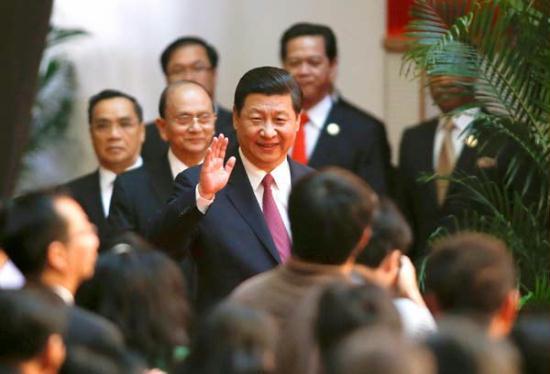 Vice-President Xi Jinping and other leaders of ASEAN members arrive for the opening
ceremony of the Ninth China-ASEAN Business and Investment Summit in Nanning, capital
of the Guangxi Zhuang autonomous region, on Friday. Sheng Jiapeng / China News
Service

Editor:Wang Shuo |Source: CCTV.com