Watch Video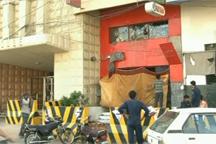 Play Video
Karachi is counting the cost after a day of deadly violence left parts of Pakistan's largest city in ruins.
Clean up operations are underway in parts of Karachi after protesters ransacked and burned banks, shops, cinemas and Western fast-food restaurants on Friday. Thousands angered by an anti-Islam film went on the rampage in several Pakistani cities.
14 people are reported to have been killed in the port city of Karachi and a further five have died in the northwestern city of Peshawar, according to officials. Despite Friday's violence, the city appeared to be returning to normal on Saturday with shops and roads reopening.
However, buses are still being kept off the roads for fear of further violence. The film, which was produced in the United States and denigrates the prophet, has outraged many in the Muslim world.
Editor:Wang Shuo |Source: CCTV.com