Watch Video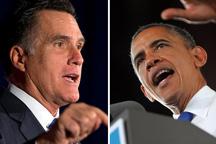 Play Video
Republican presidential nominee Mitt Romney is set to go head to head in his first debate against President Barack Obama, badly needing a stellar performance on Wednesday to reverse his sagging poll numbers before the November 6 election.
Romney contends his top issue is strengthening the U.S. economy and creating jobs, issues that are most important among voters. But the former Massachusetts governor is also attacking Obama on foreign policy after Muslim anger over an amateur anti-Islam film made in the U.S. sparked violent attacks on U.S. diplomatic missions.
A joint investigation made by the American Broadcasting Company and Washington Post indicated that 56 percent of registered voters think Obama will win the presidential debate, with only 29 percent for Romney.
Editor:Wang Shuo |Source: CCTV.com