Watch Video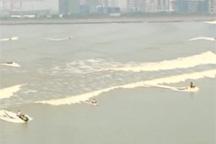 Play Video
By CCTV reporter Ying Yiyuan
Sixteen of the world's top surfers are taking part in a competition on Qiantang River. Along with the Amazon River in Brazil, the Qiantang River is among the world's best rivers for surfing. Our reporter Ying Yi-yuan talked to the surfers about this unique sport.
Riding the wave. Teams from America, Australia, and Brazil are competing for the best surfing performance on Qiantang River's tidal bores. The aim is to cover a distance of 23 km in one surfing manoeuvre. It's challenging but exciting.
For many of the competitors, it's not the first time they've surfed on the Qiantang River. Jamie has surfed in various locations around the world, and came here for the first time four years ago. He has his own special surf board.
There's only ever a single tide at any one time in the Qiantang River. The surfers have to go out in pairs. One rides the scooter which chases the tidal bore, the other looks for the opportunity to jump onto the wave. If he falls, his team mate is ready to ride him back to the tide.
"International river surfing competitions take place on the Qiantang River, but so far, there's been no Chinese contender. The competition organizers say they have plans to train their own promising Chinese surfers. So watch this space, we may be witnessing China's first Qiantang tidal bore surfer this time next year.
Related stories
Editor:Wang Shuo |Source: CCTV.com