Watch Video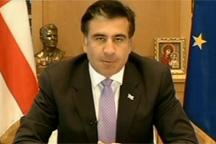 Play Video
Georgia's President and his United National Movement party have conceded defeat in Monday's legislative elections. It comes after early official results indicated that the opposition party Georgian Dream had won.
President Mikheil Saakashvili has conceded his party's defeat in parliamentary elections to a coalition led by the billionaire, Bidzina Ivanishvili.
The president says he will respect the voters' will and his own ruling party would go into opposition.
Saakashvili came to power through a peaceful revolution after a rigged parliamentary vote in 2003.
He will remain as the head of state of Georgia until his second and last term ends in October 2013.
Saakashvili's acceptance of his party's defeat has raised the chances of the country's first peaceful transfer of power between rival parties since the disintegration of the former Soviet Union in 1991.
The opposition coalition Georgian Dream's victory puts the de facto leader Bidzina Ivanishvili in place to become prime minister.
Ivanishvili, has suggested the incumbent Georgian president should resign.
Bidzina Ivanishvili, Leader, Georgian Dream Coalition said, "It will be good if he submits his resignation rather than us starting various procedures, because there are various ways to make him do this. But the most proper thing is for him to write a letter to resign. This is very logical, and I anticipate that he will do it - even more than I anticipated him conceding defeat."
Ivanishvili also says Saakashvili's ideology had created "a climate of lies, violence and torture".
Ivanishvili made his fortune in Russia and until recently has been little known to the 4.5 million people in his homeland.
He has promised to ease tensions with Moscow, four years after Georgia- the staunch US ally lost a war with Russia.
Russian Prime Minister Dmitry Medvedev welcomed the opposition victory as opening the way for "more constructive and responsible forces" to enter the Georgian parliament.
And the US State Department also congratulated Saakashvili for graciously conceding his party's defeat, saying it sends a good signal.
Related stories
Editor:Wang Shuo |Source: CCTV.com