One of the world's largest tidal bores is reaching its peak in China's Qiantang River today.
The Qiantang River's tidal bores usually start at the beginning of the eighth lunar month and reach their peak on the eighteenth day. Tide watching around Mid-Autumn Festival has become a tradition for people living south of the Yangtze River.
The tides produce a thunderous, roaring sound, thrilling tens of thousands of spectators each year. The extraordinary tides are a natural wonder caused by the gravitational pull of the moon, and the funnel shape of Hangzhou Bay. The centrifugal force produced by the rotation of the earth, and by the peculiar bottleneck shape of Hangzhou Bay makes it easy for the tide to come in, but difficult for it to ebb.
The tide rushing into the river from the bay causes a bore typically ranging from 1.5 to 4.6 meters high, sometimes up to 9 meters. Qiantang River, along with the Amazon in Brazil and the Ganges in India, has the largest bores in the world. These tides also occur on the Seine River in France.
Watch full video on live coverage>>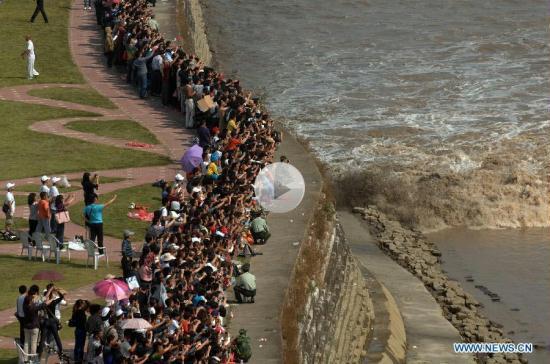 Tourists gather to watch surging tide on the bank of Qiantang River in Haining
City, east China's Zhejiang Province, Oct. 3, 2012. The tidal bore of the
Qiantang River stages highest waves during the eighth month on Chinese lunar
calendar. (Xinhua/Huang Zongzhi)
But this can also be very dangerous. Tragedy has struck the region almost every year, as visitors have been swept away by the roaring tides. Visitors are strongly advised to stay away from the seawall and remain within the safety zone. The big crowds that line the shores pose another safety risk. So local police separate the crowds into smaller more manageable groups. More than thirteen hundred security staff patrol the shores, ready to help in case of emergencies.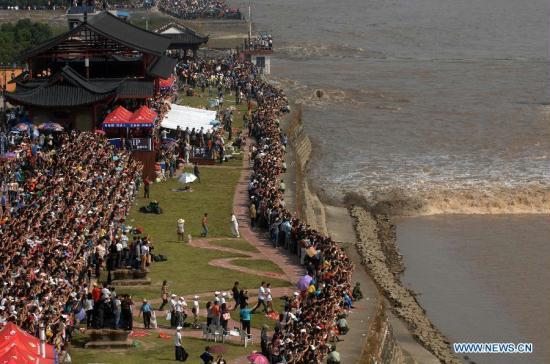 Tourists gather to watch surging tide on the bank of Qiantang River in Haining
City, east China's Zhejiang Province, Oct. 3, 2012. The tidal bore of the
Qiantang River stages highest waves during the eighth month on Chinese lunar
calendar. (Xinhua/Huang Zongzhi)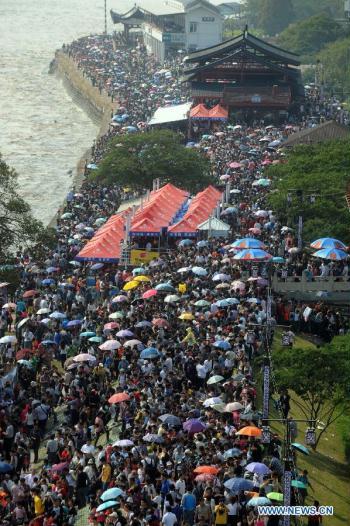 Tourists gather to watch surging tide on the bank
of Qiantang River in Haining City, east China's
Zhejiang Province, Oct. 3, 2012. The tidal bore
of the Qiantang River stages highest waves
during the eighth month on Chinese lunar
calendar. (Xinhua/Huang Zongzhi)
Editor:Zhang Jingya |Source: CCTV.com