Watch Video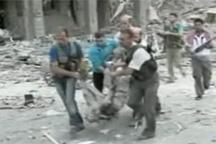 Play Video
A series of suicide bombings exploded near an officers' club in Syria's northern city of Aleppo on Wednesday, killing at least 31 people.
A government official said three suicide bombers detonated their explosives-packed cars, wounding dozens of others. The three blasts went off at Aleppo's main Saadallah al-Jabiri Square in a government-controlled district of the city, while a fourth explosion detonated a few hundred meters away near the Chamber of Commerce.
Aleppo-based activists said the bombings were followed by clashes and heavy gunfire. Syrian state television showed footage of a large crater in the road and massive destruction at the scene of the blasts. Many of the several storey high buildings on the square had their facades ripped off.
A handout photo provided by Syria's Arab News Agency SANA shows destruction and huge damages caused by the three explosions that had rattled Saadallah al-Jabiri Square in the northern city of Aleppo, Syria, on Oct. 3, 2012. According to media reports, three suicide car bombs exploded simultaneously in the area, killing at least 30 people. (Xinhua/SANA)
A handout photo provided by Syria's Arab News Agency SANA shows destruction and huge damages caused by the three explosions that had rattled Saadallah al-Jabiri Square in the northern city of Aleppo, Syria, on Oct. 3, 2012. According to media reports, three suicide car bombs exploded simultaneously in the area, killing at least 30 people. (Xinhua/SANA)
A handout photo provided by Syria's Arab News Agency SANA shows a digger working at the site of the three explosions that had rattled Saadallah al-Jabiri Square in the northern city of Aleppo, Syria, on Oct. 3, 2012. According to media reports, three suicide car bombs exploded simultaneously in the area, killing at least 30 people. (Xinhua/SANA)
Editor:Wang Shuo |Source: CCTV.com