Watch Video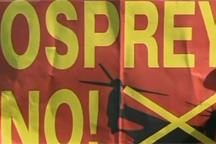 Play Video
In Japan, a city assembly has been held in the yard of the Nogo City Hall in Okinawa to protest against the deployment of Osprey aircraft. Residents have expressed fear for their safety, as the aircraft has been involved in several accidents.
Protesters also want the US to close the Futenma Air Station. So far, nine US Marine Corps MV-22 Osprey transport aircraft have arrived at Futenma. 12 Ospreys were shipped to the Iwakuni base in July.
Japanese Defense Minister Satoshi Morimoto says they're likely to begin full operations at Futenma by the end of this month. The Osprey deployment plan has reignited longstanding anger over the heavy presence of American troops on Okinawa. More than half of the roughly 50,000-member US contingent in Japan are based on the island.
Demonstrators shout slogan against the deployment of Osprey aircraft during a rally near the gate of Marine Corps Air Station Futenma, in Ginowan, Okinawa prefecture, southern Japan.
In Japan, protesters have been holding rallies against U.S plans to deploy
Osprey aircraft in Okinawa.
More than 100,000 protesters have rallied in Japan's Okinawa Island against the
planned US deployment of Osprey military aircraft to its Futenma airbase.

Editor:Wang Shuo |Source: CCTV.com