Watch Video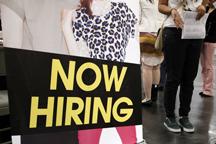 Play Video
US unemployment has fallen to its lowest rate since January 2009, according to the US Department of Labor. The jobless rate for September surprised analysts who had been expecting a small rise. The latest figures also showed more than 100-thousand jobs were added, beating expectations.
A surprise drop in unemployment gives a boost to Wall Street and support to President Obama's re-election bid. The unemployment rate tumbled to 7.8 percent in September, the lowest since January 2009 when Mr. Obama took office.
On the payrolls side, employers added 114,000 jobs. Labor economist and Rutgers University professor, William Rodgers:
William Rodgers, professor at Rutgers University, said, "But the big top-of-the-line number was that we saw the unemployment rate fell from 8.1 to 7.8 percent. And if you recall this President said a number of years ago that we want to get the unemployment rate down below 8 percent. Well, and it looks as if that may happen."
The report shows an even bigger surge in people landing jobs - even as more Americans returned to the labor market to search for work. But there's a shadow side to the numbers.
William Rodgers said, "Some of that drop in the unemployment rate that we've seen this month could be because people have been pushed off the unemployment support and have had to take jobs they ordinarily wouldn't have."
That means those people are likely getting paid less than before, and often working part time when they want full-time jobs.
Still investors like the drop in unemployment. Stocks opened higher with the Dow hitting its highest level in almost five years.
Editor:Zhang Dan |Source: CCTV.com